South Florida Storm Damage Restoration
Storms ravage through South Florida regularly during certain times of the year. Whether it's high winds and heavy rain from thunderstorms, or flooding and wind damage from tropical storms and hurricanes, Aquamax Restoration is here to help you restore property as quickly as possible after a storm. Our certified technicians have years of expertise in handling storm damage and will get your home or business back to normal. 
We service Palm Beach, Broward and Miami Dade counties including, Boca Raton, Boca del Mar, Delray Beach, Deerfield Beach, Parkland, Coral Springs, Boynton Beach and the surrounding area.
Contact us now for quick response – (561) 725-6653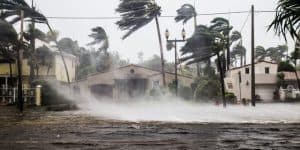 Storm Flood Cleanup i
n Boca Raton, Fort Lauderdale and South Florida 
South Florida home and business owners should be cautious about entering their property after storm flooding. Flood waters are often contaminated with sewage, debris and other harmful elements. Our certified IICRC flood cleanup team has the property safety gear, water extraction equipment and sanitizing chemicals to safely restore your home. Once the water restoration process is complete, we can help you rebuild the damaged structures of your home or business. 
Working with Your Insurance Company 
The last thing you want to deal with when you are handling post-storm damage is the insurance company. It's not only stressful, but also time consuming. When hiring Aquamax Restoration you can rest easy knowing we work with all insurance companies and can guide you through every step of the process. Our extensive experience has informed us on what damage is worth filing a claim for, and we will fight on your behalf if we feel you aren't getting what you deserve.
Call us now at (561) 725-6653 for a free estimate

Alex Vaughn
10:29 20 Sep 23
As a Community Association Manager and Real Estate Broker that specializes in property management, I've have worked with many water damage mitigation contractors in my 15 year tenure, but AquaMax's performance and professionalism is top notch. Their pricing is fair which helps keeps the client's within budget. I highly recommend this company.

Herbie and his team were among the most professional group of people we've worked with in any kind of construction project to-date. Having been through the mold remediation process once before, I can say the work that was done was of extremely high quality. Not only was he extremely communicative every step of the way and reliable with scheduling, he also went above and beyond to ensure that the remediation process didn't leave our house in disrepair. He was extremely thorough in blocking off the rest of our home from mold and dust, laying down protection for our flooring and his clean up was immaculate. So pleased we decided to work with this team. Rest assured you're in good hands!!

Ethan Stedman
17:05 01 Jul 23
HVAC system went down at our family vacation home in Boca Raton and when we arrived for the first time after many months, we found black mold growing in several areas of the house.We contacted Herby at Aquamax Restoration and he did an excellent job.Him and his crew removed all of the mold and odor from our home. When they were finished, it was like it was never even there before. We highly recommend Herby and Aquamax.
Direct Insurance Billing
Instead of having to pay out of pocket and be reimbursed from your insurance company, we bill your insurance company directly, with no upfront cost to you.