Fire and Smoke Damage Cleanup
Aquamax Restoration Services is capable of handling even the most complicated commercial and residential smoke damage jobs in South Florida including Boca Raton, Deerfield Beach, Pompano Beach, Parkland, West Palm Beach, Delray Beach and the surrounding area. Fires usually present numerous challenges that need to be addressed, such as cleaning soot and smoke, water damage and even mold growth. Like any structural damage, the sooner the restoration begins, the better. Waiting to start the cleanup will increase the damage and its associated costs. Aquamax Restoration Services is available 24/7 for emergency service.
Contact us now at (561) 725-6653 for a free estimate
Professional Fire Damage Restoration
When a fire affects your home or business it can be devastating. We understand the stress and loss that dealing with such a disaster brings about and will work tirelessly to restore the structure to its pre-loss condition. Our fire damage restoration services include board-ups, roof tarping, smoke and soot cleaning, deodorization of affected contents and reconstruction.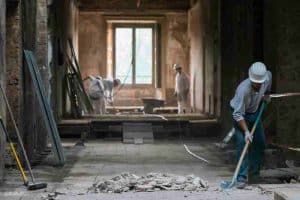 How does the fire damage restoration process work?
Each fire damage job starts with a detailed inspection of the fire damage, smoke damage and water damage. 

Next, the structure is secured as needed. Board ups and/or fencing.

Any water that was introduced into the structure must be extracted, dried and dehumidified by our Boca Raton water damage cleanup team. 

Affected contents are evaluated. Non-salvageable contents are disposed of and salvageable contents are stored and cleaned. 

If needed, damaged structures are removed.

Additional cleanup may include decontamination, sanitizers and antimicrobials. 

Reconstruction to get your home or business back to normal.
Smoke and Soot Cleaning 
Our technicians are certified to clean soot and smoke from homes, no matter the cause. If it's a small or major structural fire, years of cigarette smoke or smoke from food kept in the oven for too long. Our state of the equipment and chemical solutions will help eliminate the soot and smoke smell from your home or business.  
Puff backs, which occur when fumes build up in oil fired water heaters or furnaces can send greasy soot and smoke all over your home. We have experience in puff back cleanup and will properly eliminate the soot in your home. 
Fire Damage Restoration Boca Raton
If your home or business has suffered fire or smoke damage, it's essential to hire a fire restoration company that has the  experience in navigating the complexities of a fire damaged property. From the cleanup and restoration itself to working with the insurance company so that the claim is fully covered. We will document all the damage and bill the insurance company directly for a stress free claims process.
We service all of Palm Beach County, Broward County and Miami Dade County.
Call us now at (561) 725-6653 for a free estimate

Alex Vaughn
10:29 20 Sep 23
As a Community Association Manager and Real Estate Broker that specializes in property management, I've have worked with many water damage mitigation contractors in my 15 year tenure, but AquaMax's performance and professionalism is top notch. Their pricing is fair which helps keeps the client's within budget. I highly recommend this company.

Herbie and his team were among the most professional group of people we've worked with in any kind of construction project to-date. Having been through the mold remediation process once before, I can say the work that was done was of extremely high quality. Not only was he extremely communicative every step of the way and reliable with scheduling, he also went above and beyond to ensure that the remediation process didn't leave our house in disrepair. He was extremely thorough in blocking off the rest of our home from mold and dust, laying down protection for our flooring and his clean up was immaculate. So pleased we decided to work with this team. Rest assured you're in good hands!!

Ethan Stedman
17:05 01 Jul 23
HVAC system went down at our family vacation home in Boca Raton and when we arrived for the first time after many months, we found black mold growing in several areas of the house.We contacted Herby at Aquamax Restoration and he did an excellent job.Him and his crew removed all of the mold and odor from our home. When they were finished, it was like it was never even there before. We highly recommend Herby and Aquamax.
Direct Insurance Billing
Instead of having to pay out of pocket and be reimbursed from your insurance company, we bill your insurance company directly, with no upfront cost to you.